Congratulations to Dr Barbara Robson to be appointed as an Adjunct Associate Professor at SARCCM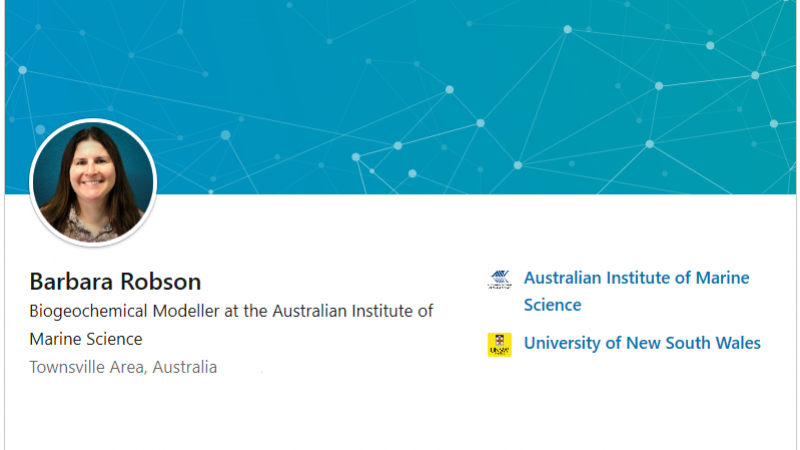 Congratulations to Dr Barbara Robson to be appointed as an Adjunct Associate Professor at SARCCM.
A/Prof Robson is a Principal Research Scientist and Coastal Biogeochemical Modeller at the Australian Institute of Marine Science and Visiting Scientist at CSIRO Oceans and Atmosphere, and will be with the title of Adjunct Associate Professor at the University of New South Wales, UNSW Canberra, with effect from 15 November 2019 and continue to 14 November 2022. 
Her research focuses on modelling water quality in aquatic ecosystems, especially coastal and marine systems of the Great Barrier Reef, to provide input to policy and management decisions by National, State and regional government bodies and industry. A/Prof Robson is regularly commissioned to provide independent review of hydrodynamic modelling and water quality research and to sit on steering committees and science review panels for work conducted to inform policy decisions. A/Prof Robson is also a member of the NZ Ministry of Business and Innovation Board of Assessors for grant applications.

A/Prof Robson is has been recognised as a Fellow of the International Environmental Modelling and Software Society (FiEMSS), a Fellow of the Peter Cullen Trust, and serve on the Science Panel of the Fitzroy Partnership for River Health. She is an Associate Editor of two leading journals in my field, Environmental Modelling & Software and Limnology and Oceanography Letters. A/Prof Robsonwas a key early contributor to the development of the ELCOM-CAEDYM modelling suite, which has now been used to simulate lake and coastal ecosystem dynamics in more than 65 countries. More recently, A/Prof Robson played a key role in leadership and development of the eReefs marine modelling suite, which supports monitoring, management and policy for the Great Barrier Reef and was a finalist for the 2018 Australian Museum Eureka Prize for Scientific Excellence.
For more details, please see A/Prof Robson's CV.