SIMS/SARCCM visit to QEPB/QCCI
4.03.14
On the morning of March 4th, 2014, Prof. Peter Steinberg, Prof. Warrick Lawson and A/Prof. Xiao Hua Wang met with Mr Sun Hekun (Director of Qingdao Environmental Science Research Institute, Qingdao Environmental Protection Bureau (QEPB)). Mr Sun Hekun introduced his Institute's research on Jiaozhou Bay and their protection plan for the Bay, expressing their wish of further cooperation with SIMS/SARCCM. Prof. Peter Steinberg gave an introduction of the WHP and mentioned that this project would be launched on the IUCN's World Parks Congress this year in Sydney when scientists from more than 20 countries would discuss the same topic, and that it would be an important opportunity for cooperation with scientists from all over the world.
On the afternoon of March 4th, 2014, the delegation paid a visit to the Qingdao City Construction Investment Group (QCCI) and had a discussion with its Vice President Mr Bu Xiaohua as well as the other QCCI members. The Chairman of the Marina Industry Association of Australia, Mr Andrew Chapman, also attended the meeting. Prof. Peter Steinberg reported the background of SIMS, the Sydney Harbour Research Program and the WHP, including its current status. Mr Bu introduced the Qingdao Harbour construction project. Mr Chapman discussed marina and harbour management issues in Australia and expressed his strong support for the World Harbour Project. It should be noted that, under Mr Chapman's support, QCCI's Qingdao Marina had been accredited a 4.5 star ranking according to the world marina grading standard. Mr Bu Xiaohua said that the QCCI would continue to strengthen cooperation with the OUC as well as the Australian partners in order to protect Jiaozhou Bay's environment.
After the meeting, the Australian visitors conducted a tour around the Qingdao Olympics Sailing Venue and Museum.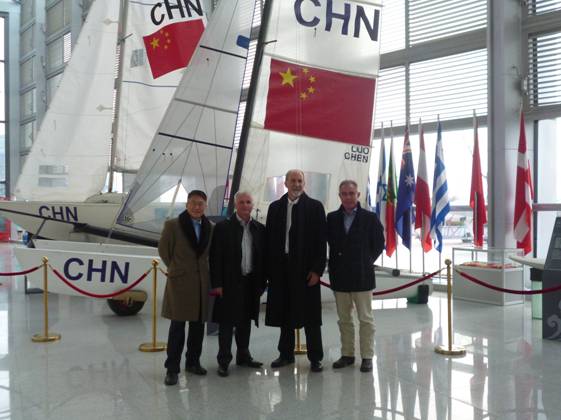 Visiting Olympic Sailing Venue and Museum (from left: Xiao Hua Wang, Warrick Lawson, Peter Steinberg and Andrew Chapman).