SARCCM members speak at China Qingdao International Blue Economy Forum, November 2013
SARCCM members speak at China Qingdao International Blue Economy Forum, November 2013
In November 2013, three Australian SARCCM members (A/Prof Lo, Chris Lane and A/Prof Stuart Pearson) were invited to speak at the third China Qingdao International Blue Economy Forum. This an example of growing profile and strengthening collaborations with China's academics, government and business through SARCCMs research collaboration.
1. Image Source: http://www.sdlb.gov.cn/art/2013/11/14/art_556_264351.html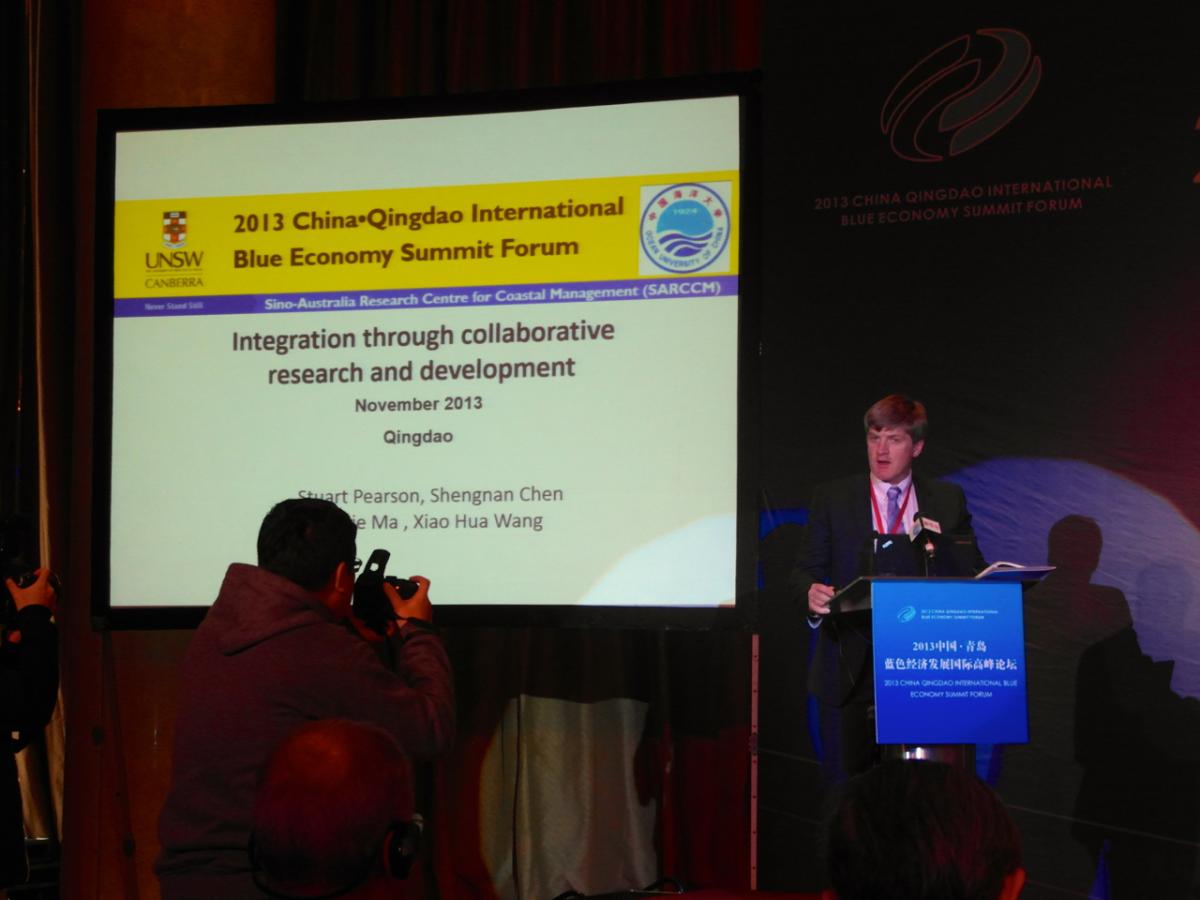 2. Associate Professor Stuart Pearson presents at the Forum. 
Photo Credit: Laurent Bellavance (Directeur General, Technopole Maritime du Quebec).
Stuart's plenary paper, Integration through collaborative research and development was well received. It provided examples of the importance of evaluation of research investments using economic, social and environmental knowledge. He spoke about the benefits of knowledge brokers in the emergence of sustainable Coastal and Marine societies.
A/Prof Robert Lo's paper on Risks Analysis and Management: An integrated quantitative approach added this important issue to the discussion.
Chris Lane's business background (CoastalCOMS)and track record in providing image and data management (including Australia's most accessed sporting web page Coastalwatch) was shown in his paper, Australia's Coastal Database integrated with the development of Australia's coastal observation network for real-time monitoring and management of the coastline. It will be a valuable contribution to the emerging interest in environmental monitoring.
Prof Xue Guifang (Julia, formerly OUC and now Chair of KoGuan Law School Shanghai Jiao Tong University) spoke on theConstruction of maritime strategy and roads towards a marine state.
We were also able to talk about Ric Pashley's recent inventions and patents in the country where commercial scale desalination is underway.
Perhaps the most significant business of the Forum was the unveiling of the indices that together make the Marine Development Indicator (Xinhua 2013) that is measuring China's Blue Economy performance. Given China's aid commitment to Africa and the Asia-Pacific, the lessons of the Blue Economy and Indicators may have global application.
The 300+ Government and Academic people at the Forum particularly welcomed the outsiders' perspectives and there are further opportunities to broker research knowledge; gathering questions and knowledge needs and matching them to existing knowledge or the capacity to discover answers through research. This is an important part of China and Australia relations.