SARCCM and PEMS, UNSW Canberra participate at the AMSA Conference, 6-10 July 2014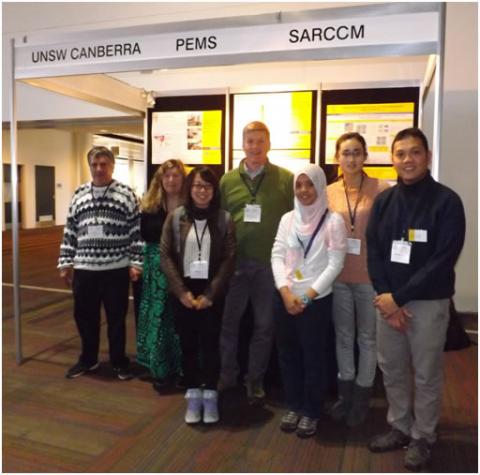 SARCCM and PEMS, UNSW Canberra participate at the AMSA Conference, 6-10 July 2014
The Australian Marine Science Association (AMSA) 51st Anniversary Conference was held recently (6-10 July 2014) at the National Convention Centre in Canberra. AMSA is the premier professional society for marine sciences in Australia. As such the event offered a great opportunity to engage with marine scientists, researchers, graduate students from universities, policy makers and environmental consultants for professional networking, exchanging ideas, identifying new collaborations and making new friends. The School of Physical, Environmental & Mathematical Science (PEMS), UNSW Canberra and the Sino-Australian Research Consortium for Coastal Management (SARCCM) was well represented at the conference with PhD student Shengnan Chen giving an oral presentation; Xiaohua Wang, Robin Robertson, Amanda Putri, Saiful Sahat Tua Marbun, Stuart Pearson, Fernando Pinheiro Andutta, Younjong Sun each presenting a poster (presentation titles below); and Amanda Xiao attending.
The posters were displayed over four days and the delegates answered many different questions about presented research projects and postgraduate research at UNSW Canberra. Shengnan Chen did very well with her talk and received good feedback from the interested audience. The conference ended up with a fantastic gala dinner at Old Parliament House.
PEMS's sponsorship is acknowledged for an exhibition stand where SARCCM and PEMS Oceanography research was displayed throughout the conference.
Posters:
Amanda Putri and Stuart Pearson - Poverty and pollution impacts in Jakarta's fishing villages.
Robin Robertson - Investigating tidal effects on mixing and cross-shelf transport and their impacts on nitrate and other nutrient concentrations.
Sheng-Kang Liang, Stuart Pearson, Wen Wu, Ying-jie Ma, Lu-lu Qiao, Xiao Hua Wang, Ling-mei Li and Xiu-lin Wang - Review of research and management of Jiaozhou Bay, Qingdao, China.
Wen Wu, Xiao Hua Wang and David Paull - Evaluating the Australian Defence Force environmental management system: A case study of Shoalwater Bay Training Area, Queensland.
Shengnan Chen and Stuart Pearson - Comparison of the legal and regulatory frameworks surrounding marina developments in Qingdao and Sydney.
Li Li, Xiao Hua Wang, David Williams and Fernando Andutta - Effects of the mangroves and tidal flats on suspended sediment transport in Darwin Harbour, Northern Territory of Australia.
Youn-Jong Sun, Xiao Hua Wang and Donghui Jiang - A coastal upwelling by wind-driven forcing in Jervis Bay, NSW - A numerical study of 2011.
Saiful Marbun and Stuart Pearson - Indonesian Marine Policy-Impacts of fisheries industrialisation and the Blue Economy Policy.